The Sawdust Factory Presents
Telescope Making
Starting with my 16" f/5 Dobsonian
---
Designed for reduced weight and reduced wind resistance, and exceeding all expectations, this telescope was built specifically for use in West Texas. And that means two things: routine travel, and often very windy observing conditions. So the Swiss cheese motif of the design serves dual purpose: it reduces weight by trimming all possible excess wood, and allows flow-thru ventilation to minimize sail effect in the wind, and resulting party-pooping shaking and vibration at the eyepiece. It works! Good viewing is enjoyed even in significant breezes.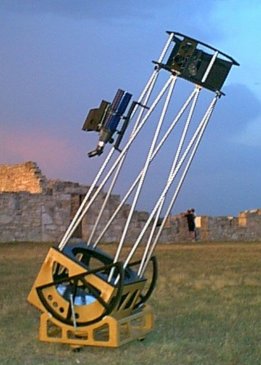 Heaviest part to lift for transport is 35 pounds -- look Ma, no more wheelbarrow handles! Total all-up weight, complete with finder stack in place, and classic Nagler 20mm Type II monster eyepiece in the focuser, is a very reasonable 68 pounds. And that ain't bad for a fully featured 16" telescope of nesting design.
The primary mirror alone weighs 30 pounds. A Nova optic prized for its its pinpoint performance, it is stored and transported safely in a custom case:
The design on the case lid was cut using a CNC router at a cabinet shop where I worked at the time, and the telescope design was taken directly from the AutoCAD drawings from which this instrument was built, so it is actually a true scale rendering.
Left: Upper Tube Assembly

Note the focuser board cut-out in the shape of the State of Texas. No reason not to have a little fun trimming weight!

Also note the filter slide: don't mean to preach, but every Dobsonian ought to have one. Seriously.
Right: detail shot of the Mirror Box and Rocker Box. Why, it's even a shot of the Ground Board, too! The Rocker Box was the heaviest component on the Original 16; now it's almost the lightest. One of the two spring counterweights is also seen here. The optical tube assembly is very finely balanced to give the telescope a very light "feel", so "virtual counterweight" springs are used for those extra-heavy eyepieces.

My buddy Ken says he really likes looking "through" my scope. He's a funny guy.
Left: ready to (star) party! It's amazing how little space this 16-incher requires. As road trip items go, it is almost reduced to "incidental item" status.

Note that the UTA stows inside the mirror box for storage and transport. This is called 'nesting', in case you were wondering about that (see more on this below).
Left: View showing the finder stack to advantage. It is essentially a correct-image 20x80 rich-field refractor in dual adjustable rings, with a standard Telrad with dew hood mounted above.

The unique feature here is that there are no attachment devices to hold the assembly in place on the telescope, just good old gravity. A close look at the picture explains it all, there is nothing hidden. It's a simple "wedgie fit". While it may appear a little precarious, I have been using it quite a few years without incident.

A full set of removable baffles is part of the package. The center hole of the filter slide serves as the focuser baffle, and a flexible plastic baffle is easily installed opposite the focuser. A few baffles properly located at strategic points along the optical path block extraneous light rays from entering the focuser. When properly baffled, such an instrument requires no shroud.

Further particulars: 12mm, or 1/2", Baltic birch plywood throughout, MinWax Helmsman Spar Urethane spray and Krylon black is the finish. Obsession style mirror cell, ProtoStar spider and diagonal holder. Tectron R&P focuser. Aluminum tubes are silver anodized. Everything else home brewed.

For routine collimation I use the barlowed laser technique.
I got email asking about it, so here is what the term "nesting design" means. The upper part stows inside the lower part for storage and transport. For my money, it's the only way to go. It not only makes sense for saving space, but also safely protects the upper tube assembly, or UTA.

Speaking of design considerations, I prefer a "full cage" UTA to the current trend of single ring UTA because it offers lots more protection for the spider, diagonal holder, and filter slide.

It will never look as cool as true ultra light, minimalist telescopes, but that's a price I'm willing to pay for the peace of mind I get when I load this baby in the back of the truck with ten tons of other toys, like all my gear for kayaking, canoeing, fishing, camping, etc., etc., for weeks at a time hundreds of miles from home. If you can detect a little wear on the woodwork, I can promise you there's good reason for it.

The mirror is carried separately to protect it, to keep it clean, and to allow the rest of the scope to be light enough to lift so I won't have to use wheelbarrow handles and ramps to get it in and out of the truck.
Update 8-1-2011: I have finally gotten off high center and built a new equatorial platform for this scope. See This Thread on the Cloudy Nights ATM forum for lots of details and pictures.

Update to the update: It has been requested that I post a page to the subject, so here it is: Equatorial Platform Making.
---
Making the Sawdust Fly!
I regret my failure to shoot very many construction photos, but here are a few. To the left is the Mirror Box and Rocker Box, along with one of the templates I made for use with router and guide bushings for all the cut-out work. This was quite the router-intensive project! As mentioned above, the telescope is made of 1/2" Baltic birch plywood, and router templates were made from el-cheapo 1/4" plywood. Glue is Titebond II, finish is Minwax Helmsman Spar Urethane in spray can. Strut tubes are silver anodized. Note piles of sawdust all over the place. I live for piles of sawdust. The center photo shows the new lower end next to its predecessor, which it replaces -- hey, same great taste but only half the calories! The photo on the right is how she appeared at first light, before the finish was applied. Such an exciting moment!
Ancient History: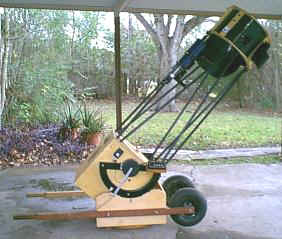 The 16 as I originally obtained it.
It all started with a bad case of aperture fever. I scrimped and saved, and had begun snooping around for an 18- or 20-inch mirror to build a telescope around, and ran across the 16 as it appears in the picture above. Though smaller than I was really after, I simply couldn't pass it up. It was a home-built 'scope that happened to be very meticulously crafted by a retired machinist as a close Tectron copy. But it was the utterly fabulous razor sharp performance of the primary mirror that clinched the deal -- no way I was letting this optic get away! The original 16 I brought home weighed in at 165 pounds and required wheelbarrow handles to move around. I used it in this configuration for some years before deciding to put in on a diet, with the results seen above.
I am fortunate enough to own two such one-in-a-million mirrors: a 13.1" f/4.5 figured by Jerry Wilkinson, and this one by Steve Dodds. In fact, it was the unbelievable refractor-like images the 13 delivers that caused me to become such a devout connoisseur of exquisite glass that I would settle for a 16 when I really wanted an 18, or better yet, a 20-incher. (Next project will be to rebuild the 13-incher into an ultra light, ultra compact travel 'scope. Right after I build a new equatorial tracking platform, that is. Seems like all my astronomy toys need updating!)
And although I never regretted blowing my super-scope fund on this baby, I still had continued yearnings for larger apertures for some time afterward. But not any more; in time I have come to truly appreciate the size of this instrument as an excellent balance of large aperture and manageable package.
---
Return to the Sawdust Factory Table of Contents
Email Kurt Maurer at: NGC704@aol.com